Share this URL: https://symbioticeconomy.peatix.com/
Event is FINISHED
Building a Sustainable Future: Exploring a Symbiotic Economy
How can we create systemic change to tackle today's severe environmental and social crises? In March, we explored the opportunities presented by the 'Circular Economy'. Next, we will be taking a deep dive into the 'Symbiotic Economy', a new economic paradigm that could regenerate our endangered planet.

On 2 April 2019, join us for "Building a Sustainable Future: Exploring a Symbiotic Economy", hosted by L'Institut Français du Japon and Social Innovation Japan!

Isabelle Delannoy, renowned environmentalist, writer and co-author of the film "Home", will introduce the concept of a 'Symbiotic Economy' - a new, sustainable economic model promoting a symbiotic relationship (mutually positive growth) between flourishing natural ecosystems and intense human activity, across all economic fields. On this visit to Japan, she will share the key themes and messages from her critically acclaimed book, "Une Economie Symbiotique".

"Ten years ago I started searching for ways to solve the ongoing environmental crisis. What I found is that, around the world, a new form of economy is emerging, which is capable of regenerating its own resources. You'll find it in the sphere of the living (with permaculture and agroecology), in social systems (shared governance experiments), and industry (with a circular economy based on the "access" to goods rather than their possession). Underlying these experiments you'll find the same logic, which is perfectly described by a term borrowed from biology: symbiosis." - Excerpt from an interview with Philonomist magazine.

Following this, Tsuyoshi Kawakami - Principal Fellow at the Institute for Global Environmental Strategies (IGES) - will provide comments on Isabelle's talk and explore the current and future prospects of circular and symbiotic economy models in Japan, before opening up to questions from the audience.

Speaker Profiles

Isabelle Delannoy

A trained agricultural engineer, Isabelle Delannoy is a sustainable development specialist and is one of the thought leaders behind the 'symbiotic economy', an economic model that allows humans and ecosystems to live in harmony. She is the founder of Do Green and is the chair of the Atelier Symbiotique Association which brings together entrepreneurs using this model. She is also the joint screenwriter of the film "Home", by Yann Arthus–Bertrand, and the author of several books, including "A Symbiotic Economy - After fifty years of innovation: a new economy?"


Tsuyoshi Kawakami

Tsuyoshi Kawakami, Principal Fellow at the Institute for Global Environmental Strategies (IGES), joined Japan's Ministry of the Environment in 1989 and worked as a head of Office for Environment and Economic Policy Research in the General Environmental Policy Bureau, Head of General Affairs Division in Nature Conservation Bureau, etc. He was also in charge of the Environmental White Paper of the Japanese Government for several years. His wide working experience includes International Organizations (OECD Paris; Administrator in Environmental Performance Review), Local government (Head of Nature Conservation Division in Shiga Prefecture), Academic fields (Professor at Graduate School of Global Environmental Studies, Sophia University) as well as Government owned Company (General Manager in Japan Environmental Storage and Safety Corporation).
KEY TAKEAWAYS
Learn

about the Symbiotic Economy model.

Explore

the implications of this new model on our societies and economies, both in Japan and globally.

Interact

with a diverse group of people (entrepreneurs, corporate employees, students, nonprofits, etc.)
TARGET AUDIENCE
Individuals and organisations who want to learn about the Symbiotic Economy.
Businesses with a desire to look ahead at the future of sustainability and its implications for their value propositions.
Environmental NGOs, startups and businesses
Students, academics, researchers on issues related to sustainability
Government stakeholders
LANGUAGE
English (no interpretation) / 英語(通訳なし)

FACEBOOK EVENT PAGE - HERE


SCHEDULE
18:00: Doors open
18:30 - 20:00: Presentations, Q&A and Discussion
20:00 - 21:00: Time to relax & mingle with drinks
21:00: Close
TICKETS
General Admission: 2000 JPY (including networking drinks)*

*Tickets will NOT be available on the door. Please purchase your tickets in advance. Spaces are limited, and will be allocated on a first-come, first-served basis.

ORGANISED BY: 一般社団法人Social Innovation Japan, L'Institut Français du Japon
SUPPORTED BY: 一般社団法人Japan Innovation Network (JIN)
VENUE PARTNER: 株式会社 Gaiax/Nagatacho GRiD


About Social Innovation Japan
Social Innovation Japan (website) is a community of problem-solvers, thinkers, and doers. We provide a platform for people to engage with and learn from industry leaders who are tackling social and environmental issues and connect with like-minded people from different backgrounds. We aim to build Japan's largest and most diverse platform of change makers, connecting people with opportunities and resources to tackle real-world problems.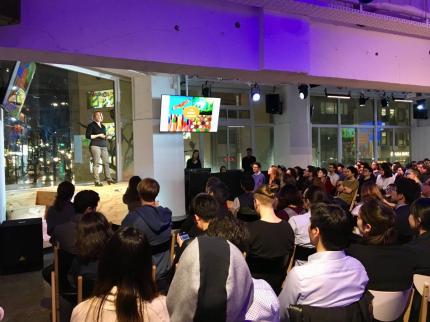 Disclaimer: Please note that we will be taking photos at this event and we reserve the right to use these in our promotional materials. If you would prefer not to appear in photos/videos, please inform a Social Innovation Japan team member on the day. Social Innovation Japan, the organising team, volunteers and sponsors are not liable for any injuries, deaths, accidents, loss of property or damages incurred during any of our events.
read more
Updates
The event description was updated. Diff#422307

2019-03-30 03:16:00
Tue

Apr 2, 2019
6:30 PM
-
9:00 PM
JST
Add to Calendar
Venue
Tickets

General Admission (incl. networking drink)

SOLD OUT

¥2,000
Venue Address

2 Chome-5-3 Hirakawacho, Chiyoda

Japan
Organizer